Message from the Director
This page carries the message from the Director.

Message from the Director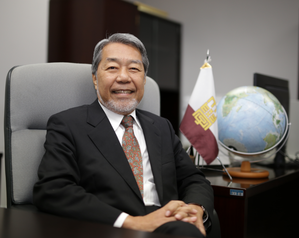 "Not seeing the woods for the trees" is a proverb used when one sticks to small things only and cannot recognize an overall situation.
Since the ancient period human beings have been observing a surrounding environment from a high tree or a mountain. Understanding a global circumstance; that is to say "seeing the woods" might be necessary. It is said people first observed the ground from the sky by using a tool in 1858: they took some photographs of Paris, France from a balloon in the sky. Since then we have invented air crafts and satellites for around 160 years. These technologies have been enough enhanced so that we can observe the earth entirely every day. "Seeing the woods" technology is indispensable when we consider today's global scale environmental changes and disasters in wider areas.
Meanwhile, remote sensing can bring us a measure of "seeing the trees" from the space. It enables each tree to be identified one by one with 50cm resolution. Finally it provides us with the means of "seeing the trees as well as the woods" in various fields.
Center for Environmental Remote Sensing (CEReS) is the only one research institute of Japanese national universities which bears the word of "Remote Sensing". Ministry of Education, Culture, Sports, and Science (MEXT) designated us as a nationwide joint usage/research center for remote sensing study in 2010. Every year we conduct more than 50 joint researches with Japanese universities and research institutes. And we have concluded contracts or agreements with 30 overseas universities and research institutes, promoting international collaborative researches.
A number or problems is still remained unsolved, and they cannot be solved by one single academic discipline, one single institute, or one single nation. Collaboration over disciplines, institutes, and nations is significant, and it is also required that we make most use of "seeing the trees as well as the forests" technology to cope with them.
CEReS deepens remote sensing study and copes with the social problems with people and institutes both inside and outside Japan. Your understanding and cooperation are highly appreciated.
Director Yoshifumi Yasuoka